Community Action Virtual Training to help advance New Mexico's Green Amendment

New Mexico leaders and organizers talk about updates with the Green Amendment movement and plans for New Mexico's 2023 legislative session.
Interview with Senator Antoinette Sedillo Lopez

Interview with Dee George and Penny Aucoin
Interview with Artemisio Romero y Carver

Interview with Norm Gaume

Interview with Kevin Bixby

Interview with Rose Gardner

Interview with Athena Christodoulou
Interview with Sister Joan Brown
Interview with Sally Rogers
Senator Carrie Hamblen, Green Amendment Day Proclamation
On National Green Amendment Day, the Doña Ana Board of County Commissioners stood in solidarity with many New Mexico organizations and passed a proclamation formally recognizing July 13 as Green Amendment Day. Senator Carrie Hamblen makes a powerful statement on the need for a NM Green Amendment particularly for BIPOC communities. Read the full proclamation here.

Free the Bills Press Conference
NM legislators and environmentalists are demanding hearings for popular and transformational legislation that is currently being blocked in the Judiciary Committee by the Chair, Senator Cervantes. This includes SJR3, NM's Environmental Rights Amendment, along many other important bills.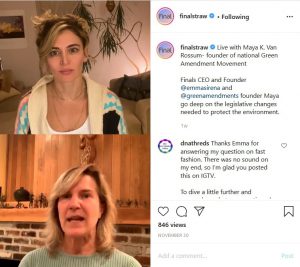 Facebook Live
New Mexico State Senator and primary sponsor of JSR 3 , Antoinette Sedillo Lopez, and Green Amendments Founder and Leader, Maya van Rossum discuss environmental issues facing New Mexico and Green Amendments.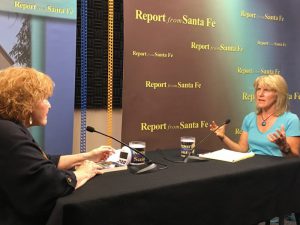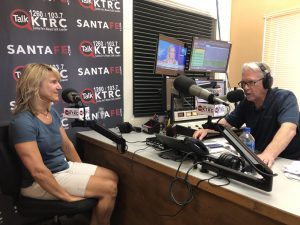 Support Green Amendments For the Generations!
The Richard Eeds Show | 2022-01-06
Mainely Matters with John Brier | 2021-05-05
101 Ways to Save the Planet interview- Saving the planet by removing "Sacrifice Zones" | 2021-02-10
The Richard Eeds Show | 2021-01-28

Forces For Nature with Crystal Dimiceli | 2020-11-09

"What is Pennsylvania's Green Amendment?" with Sustaining with Shana | 2020-08-14

 Alliance for a Viable Future with Lev Natan | 2020-07

Maya van Rossum on the Sustainable Jungle Podcast, Episode 47 - Your Constitutional Right to a Healthy Environment | 2019-12-12

Maya van Rossum with Kate Stauffer on The Nonprofit Experience, Episode 43 - "They Need to Know" | 2019-11-13

Maya van Rossum on Carbon Removal Newsroom with Nori | 2019-09-30

Maya van Rossum on the Richard Eeds Show on KTRC Santa Fe | 2019-08-21

Maya van Rossum on KYRS Radio "Earth Matters Now" | 2019-06-04

Maya van Rossum on Reality Check with Charles Ellison | 2019-04-17

Maya van Rossum on Problem Solver Politics with Cardon Ellis | 2019-03-17

Maya van Rossum on Reality Check with Charles Ellison | 2019-02-06

Maya van Rossum on Trenton365 with Jacque Pierre Howard | 2019-02-05

Maya van Rossum on KGO810 with Ethan Bearman | 2019-01-21

Maya van Rossum on WISR-AM "It's Your Turn" with Dave Malarkey (Pittsburgh) | 2018-09-28

Maya van Rossum on KMOX-FM St. Louis on "Total Information AM Sunday" with Brian Kelly | 2018-09-23

Maya van Rossum speaks with Ethan Bearman on KGO 810 in California | 2018-07-24

Maya van Rossum speaks with 411 Teen Tallahassee | 2018-07-01

Maya van Rossum speaks with Sierra Club SEPA about pursuing an environmental rights amendment | 2018-06-05

Maya van Rossum with Marty Moss-Coane on WHYY Radio Times | 2018-05-22
Maya van Rossum with Warren Lawrence at WKNY in the Morning | 2018-04-30
Maya Van Rossum weighs in on the Governor Cuomo's announced plastic bag ban as well as her new book on Capitol Pressroom | 2018-04-24
Maya van Rossum on WCHE West Chester Fresh Perspective Radio | 2018-04-19
Maya van Rossum joins Kay Wood and Linda Rosenwein of Planet Philadelphia to start off Earth Day Weekend | 2018-04-20
Maya van Rossum with Jami Floyd on Midday on WNYC  | 2018-02-23
Maya van Rossum with KJZZ radio speaking on Green Amendments | 2018-02-12
Maya van Rossum with Myanna Dellinger on the Global Energy and Environmental Law Podcast | 2018-02-07
Maya van Rossum interview with Alex Wise of Sea Change Radio Podcast | 2018-02-06

Maya van Rossum on N2theGarden Radio Podcast | 2018-01-17

Maya van Rossum with Jacque Howard of Trenton365 at Classics Books & Gifts Book event in New Jersey | 2018-01-13

Maya van Rossum interview on Urban Insights

Maya van Rossum interview on Stateside, MichiganRadio | 2017-12-19
Maya van Rossum interview with Marjorie Alexander on A Sustainable Mind podcast | 2017-11-14
Maya van Rossum interview with Charles Ellison on WURD Radio Reality Check | 2017-11-08
Maya van Rossum interview with Tim Farley on Politics of the United States (P.O.T.U.S) on SiriusXM | 2016-04-07

Maya van Rossum interview on the Tom Sumner Program | 2017-11-06
A Healthy River: Protecting It for the Generations | Maya Van Rossum | TEDxStroudsburgLibrary | 2015-10-17