Pursuing a Green Amendment in New Mexico
NM Green Amendment Addressing the Climate Crisis
New Resource helps layout how the New Mexico Green Amendment will be a powerful tool for ensuring meaningful government action in addressing the climate crisis. NM GA Climate FAQs – FINAL
Green Amendment Strength for Environmental Justice
An Emmy Nominated Show
Here's The Story, an Emmy nominated show that premiered in 2011 and is produced by acclaimed journalist Steve Rogers, is now featuring a two part show featuring the Green Amendment movement. The show joins Maya as she explores the history of the Green Amendment movement and meets with environmental, political and legal leaders key to the movements past, present and future. Among those interviewed is NJ Governor Phil Murphy, PA Senator Franklin Kury who originally conceived of the idea for PA, and the chief justice who wrote the iconic opinion that helped launch the movement.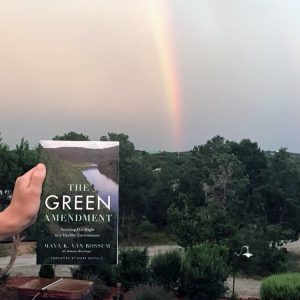 You can watch the show, see Facebook live chats with some of the key players, and see the full interviews that were conducted as part of the show here: Here's the Story: The Green Amendment.
New Mexico: A Resource or Sacrifice State? Recording now available
A webinar hosted by Indivisible Nob Hill and Green Amendments For The Generations to discuss NM's most pressing environmental issues and how a Green Amendment could help provide a solution.
Nuclear issues in New Mexico, in particular waste storage plans in Lea County by Holtec International, presented by Leona Morgan and Eileen Shaughnessy
Health impacts of methane pollution, presented by Mario Atencio
A Green Amendment as a solution, presented by Green Amendments For the Generations founder Maya van Rossum.
Watch the recording of this Zoominar – use the password: 5L@Zv5=$ to access.
A Letter from Maya K. van Rossum: Racial Justice Demands Constitutional "Green Amendments"
Read GAFTG Founder, Maya van Rossum's open letter calling for environmental and racial justice, which offers a tangible pathway to change. Check out the moving video piece in which 24 diverse leaders and activists joined van Rossum in delivering the letter.
Support Green Amendments For the Generations!
Understanding and Implementing a Green Amendment in New Mexico
Resources for Teachers/Educators
Se puede explorar nuestras materiales aqui
Necesitamos una Enmienda Verde por Nuevo Mexico para mejorar nuestra ambiente
How Green Amendments Are Helping In PA & MT
For the Generations Image Gallery