Time to Build Towards 2024
Even though the 2023 legislative session is over, spreading the word over the coming months and staying engaged will help us strengthen the foundation for success in the coming year.  Please, help us continue to spread the word via letters to the editor, social media, and by joining our Green Amendment action app.
Join the New App Dedicated to the NM Green Amendment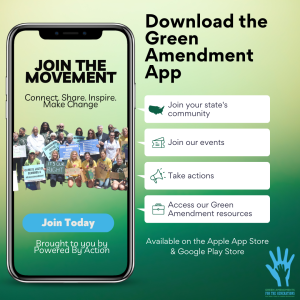 Green Amendments For The Generations has a new white label app that you can join to be up to date on all of the hot news and action opportunities.  Be sure to join the New Mexico Green Amendment Movement page.  You can also join the national page if you want to see what other states are doing. But to be up to speed on New Mexico it is important you join the NM community.
You can download the app to your phone from the app store by typing in Green Amendments FTG
Or you can join on your computer via the web by going to this link.
However you join, this will be the best place to stay up to date and engage.
Be sure when you sign up to set the email/push notifications to suit your life style, turn them on, turn them off or limit them.  It's easy and will ensure the best experience.
Sign On To Urge Governor's Support
Sign On to Urge Governor Lujan Grisham to Support a New Mexico Green Amendment.
On August 25, 2021, Governor Lujan Grisham signed Executive Order 2021-052 announcing the New Mexico "30×30" Framework, an initiative to conserve at least 30% of New Mexico's lands by 2030 to help avert climate crisis and to "sustain traditional ways of life, provide our drinking water, ensure food security, preserve biodiversity, … promote the health and wellbeing of all who call New Mexico home," while also protecting the state's economy.  
This sign on letter reminds the Governor that a New Mexico Green Amendment will be a powerful compliment to her 30×30 plan, providing a strong constitutional foundation for ensuring state agencies and officials have the tools necessary to achieve success and, at the same time, ensuring a lasting legacy of protection and success for present and future generations.  
Please join your organization and/or personal voice with others to urge the Governor to take a public stance in support of the New Mexico Green Amendment.  See the letter and sign on here:  https://bit.ly/GovSupportNMGreenAmend
You can also help via your social media platforms to encourage others to sign.  Find sample tweets and text on our Social Media Toolkit page.
Sign On To Show Your Support
It is important we continue to grow support for the New Mexico Green Amendment, please sign on in support — whether an individual or organization we need your support. When you sign up you will also be kept up to speed on new education and engagement opportunities:
Join Our Social Media Action Team
To get quickly and powerfully active on social media to help spread the word about the values of a #NMGreenAmendment go to this link:   https://linktr.ee/NMGreenAmendment
The top tab takes you to a series of tweets you can easily send to your legislator with just one click to urge and/or thank their support for the NM Green Amendment & to urge them to schedule a hearing and let the people vote.
This toolkit is an easy link that you can share yourself, share in emails, put in social media bios, etc.
The items include easy Click To Tweets to encourage your legislator to support the Green Amendment, easy graphics to share, and Sector Letters where people can sign on from businesses to educators to agricultural workers to young people & a petition to the governor.
Please share this toolkit with your friends and family because the more engagement the better.
To learn more, go to our Social Media Toolkit Page for posts, hashtags and twitter handles to help us spread the word.
Write a Letter To The Editor expressing the benefits a NM Green Amendment.
A letter to the editor can let your community know what the NM Green Amendment is and how it can help your community and environment.
You can use our online portal to help you get your letter to the news outlets serving your community.  It's easy. Just a few clicks, share your thoughts, click again and you will have submitted your letter to the news outlets in your area.
Click here: to get to our user-friendly letter to the editor portal
When writing your letter, consider tying in a local issue or recent article and feel free to use any of the information provided on the resources tab of this website.
Once your article is published, be sure to tag us share it with us on social media so we can help raise up your letter and leadership by sharing it with the world.